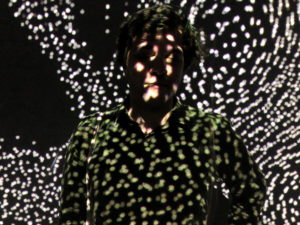 "The Wish To Be a Red Indian.
If one were only an Indian, instantly alert, and on a racing horse, leaning against the wind, kept on quivering jerkily over the quivering ground, until one shed one's spurs, for there needed no spurs, threw away the reins, for there needed no reins, and hardly saw that the land before one was smoothly shorn heath when horse's neck and head would be already gone."
Franz Kafka
I'm a researcher and artist interested in exploring and creating multimodal and multi-sensory interactive experiences that go beyond current visual and pixel-based communication media. I'm also active in the research of novel artistic expressions in zero-gravity environments.

With my practice, I aim to expand the idea of functional and usable to the psychical, subconscious, conscious, and perceptual dimensions of human experience through virtual-physical media objects and environments.
But don't worry, I have a life out there.
In 2019 I obtained my Ph.D. in Human Informatics (the equivalent of HCI in the Japanese system) at the Virtual Reality Lab, Empowerment Informatics, University of Tsukuba (JP), under the supervision of Prof. Hiroo Iwata. My research aimed to investigate the effects of the collapse of the Virtual-Reality continuum (where physical objects start to reveal characteristics of virtual ones, and new types of virtual-physical materials start to emerge) by proposing Malleable Media, a framework to envision, design, and implement interactive systems based on novel virtual-physical materials. 
My works have been exhibited and screened in venues such as Ars Electronica Festival, Sonàr+D, Piksel Festival, All Frontiers, Maribor European Capital of Culture, Rome Film Festival. I have presented and published my research in international leading conferences in the field of Human-Computer Interaction such as ACM TEI, ACM DIS, IEEE VR, NIME, ICMC, pushConference, and interdisciplinary journals like "AI & Society".
My project SculpTon was selected as one of the finalists of the Margaret Guthman Musical Instrument Competition 2015, Georgia Institute of Technology (USA).
For more than ten years I have performed, recorded, traveled with the Italian band Elettrofandango.
Previously to my Ph.D. I have worked as a Research Assistant at STEIM – Studio for Electro-Instrumental Music in Amsterdam (NL), on the METABODY European Project. Between 2017 and 2019 I collaborated with YCAM InterLab as an engineer-in-residence. 
I'm also part of the research network on Data Physicalization.
I'm also curating deformableui.com, a unique online database devoted to keeping track of the past, present, and future of Non-Rigid Interfaces.
Currently, I'm working as a researcher at the Creative, Intelligent & Multisensory Interactions Laboratory of the University of Trento (IT). My research focuses on the use of AR and VR for remote music education and creation.
Before, I worked as creative technologist at System Friend Inc. (Tokyo, JP) and as a freelance consultant focusing on developing prototypes and solutions for new immersive experiences using a wide variety of technologies.
Feel free to contact me using my email boem.alberto[at]gmail.com or through the contact form.