A Malleable Interface for Sound Sculpting (2013-2014)
"Imagine your 10-year-old coming home from school after band practice and begging you to let him play a… SculpTon? It doesn't quite have the same ring as a saxophone, but the SculpTon may be one of the instruments of the very near future."
Popular Science
SculpTon is a malleable interface for musical expression oriented to live performances, which combines a deformable input surface and an embodied sound model of the human voice. SculpTon is based on the idea of sculpting as a way for promoting and creating an active and engaging relation between the performer and the musical artifact.
Through this interface a performer can explore sculpt a sonic space that is far from vocality or singing, but is something more closed to the origins of the language and the emergence of utterance.  The performer and the interface are then struggling together in a physical-sonic act that is ambiguous, funny but also deeply disturbing. After different stages of refinement, SculpTon is now a stability and playability that makes this interface quite unique, and even strange.
This is documented through different performances and presentations given in Austria, Spain, Japan, Greece, Netherlands and Romania, in venues such as Ars Electronica Festival, ICMC, MNAC, ACM TEI, STEIM.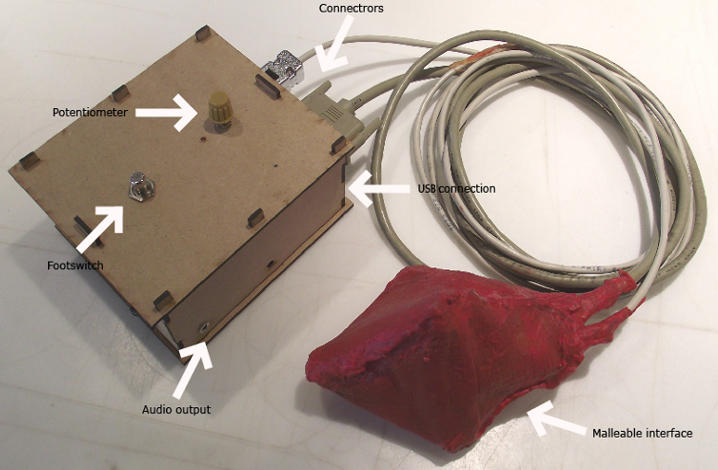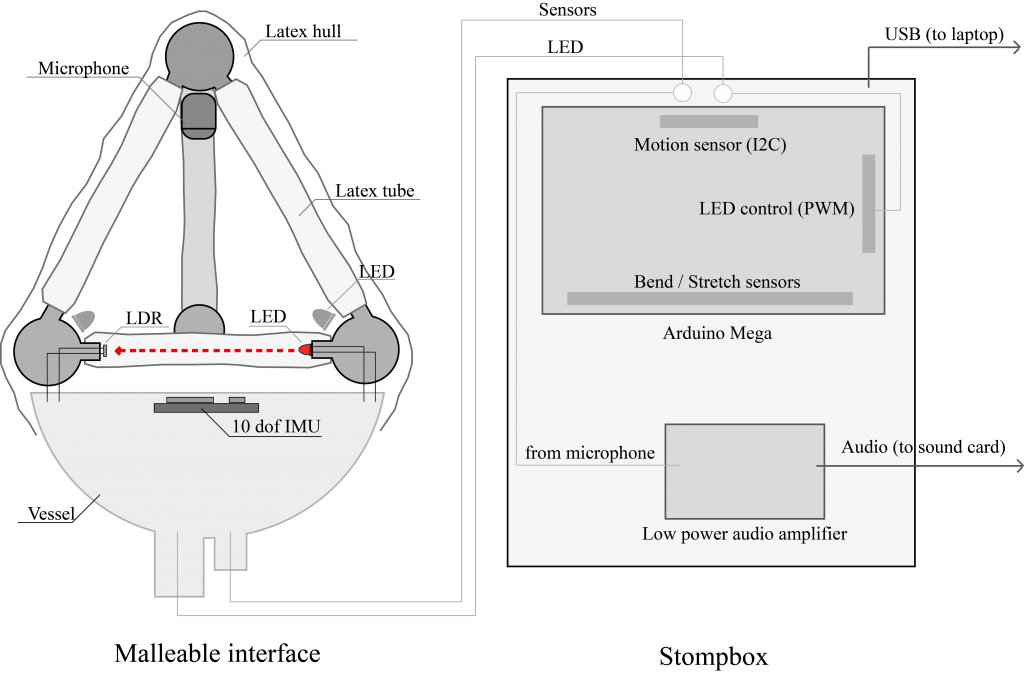 Components
Three different gestures can be detected through a sensor unit: rest (initial position), stretch and bend.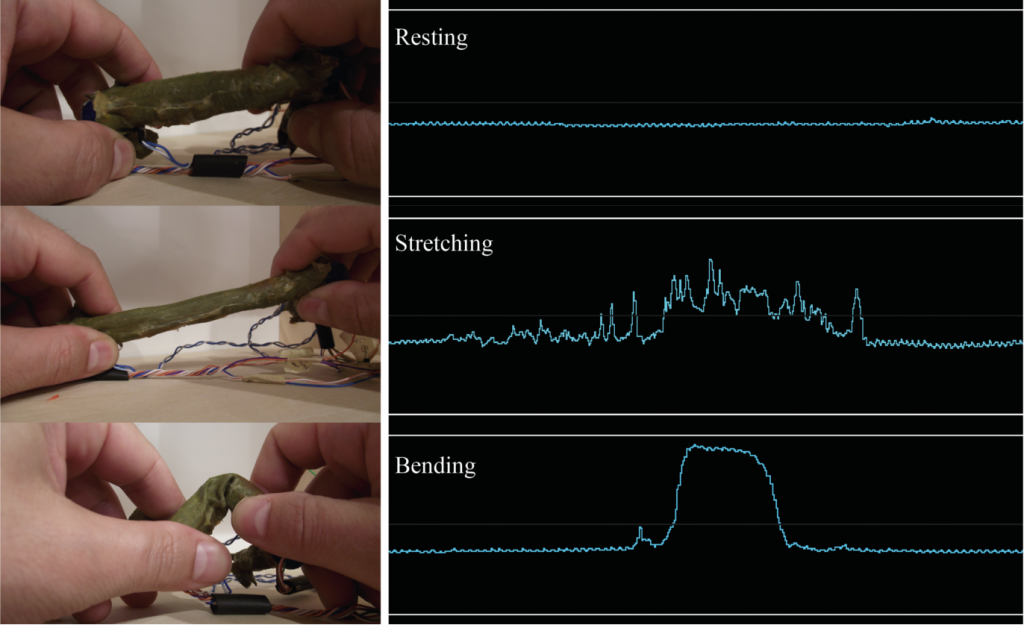 A stompbox is used for hosting the microcontroller, managing the connections between the surface and the computer. On the top, a footswitch is used to calibrate the IMU.

Two iterations of the Arduino Mega shield designed for managing the connections.

The final version of the shield.

Publications:
Boem, A. (2014). SculpTon. A Malleable Tangible Interface for Sound Sculpting. In Proceedings of the Joint ICMC + SMC Conference (International Computer Music Conference + Sound and Music Computing Conference), ICMA, Athens, GR, 14-20.07.2014 [pdf download]
Boem. A. (2013). Sculpton, a malleable tangible object for musical expression. In Proceedings of the 7th ACM Conference of Tangible, Embedded and Embodied Interaction (TEI 2013), ACM, Barcelona, Spain,10 – 13.02.2013. [pdf download]
Live shows, exhibitions, demonstrations:
Electrosketch III, STEIM, Amsterdam (NL), 4.6.2015
Margaret Guthman Musical Instrument Competition – Georgia Institute of Technology, Atlanta, Georgia (USA), 19-20.02.2015
push.Conference, Munich (DE), 10-11.10.2014
ICMC + SMC Conference, Athens (GR), 14-20.09.2014
IAMASONIC, Gifu (JP), 12.06.2014
Noise Cocktail, Dokapi, Linz (AT), 22.04.2014
MNAC – National Museum of Contemporary Art, Bucharest (RO), 7.03.2014
Use At Your Own Risk, Victoria Art Centre, Bucharest (RO), 6 – 26.03.2014
Tag der offenen tur, Kunstuniversitat, Linz (AT), 22.11.2013
ARS ELECTRONICA FESTIVAL 2013, Linz (AT), 5 – 09.09.2013
ACM TEI Conference 2013, Barcelona (SP), 10 – 13.02.2013
"(…) His SculpTon reminds me of a musical version of eXistenZ, organic and alien, and when he performs, it looks like both artist and instrument completely merge into one and simultaneously struggle with each other. beautiful. (…)"
Nina Wenhart, post/digital art
An interview I gave for the Digi24 TV channel (RO) in 2014:
Media and press:
Georgia Tech News, March 2015
The Creators Project, February 2015
Popular Science, February 2015
IAMAS News (JP), July 2014
Digi24 (RO),  15.03.2014
Zeppelin  (RO), March 2014
Radio Romania Cultural  (RO), 6.03.2014
Radio Romania Cultural (RO),interview, 5.03.2014
Artribune (IT), September 2013
DORF.TV  (AT), interview, 09.09.2013
Radio FRO (AT), interview, 10.09.2013
Artribune (IT), September 2013
D'ars Magazine (IT), September 2013
SculpTon live at Ars Electronica Festival, Linz (AT) 2013
SculpTon live at Museum of Contemporary Art, Bucharest (RO) 2014
SculpTon live at IAMASONIC (music train), Gifu (JP), 2014