In 2015 I worked at STEIM (Studio for Electro-Instrumental Music) on the European Union founded project METABODY.
I have collaborated with Marije Baalman, "Chi Ha Ucciso il Conte?" (Nicoló Merendino), and Tijmen Lohmeijer on the development of a series of foldable speakers that can be scaled from an intimate type of instrument to a large scale sounding structure.
Distributed sound reproduction with custom made speakers – exploring the concept of soft speakers – both in its material, as in the loudness of sound reproduction. We have explored the properties of the materials – the speaker is not a separate entity, but the malleable shape of the object determines the overall sound quality. The speakers are connected to small embedded microcontrollers or computers that synthesize and produce sound – thus moving away from centralized audio production and towards distributed sound production.
MODULAR FOLDABLE SPEAKERS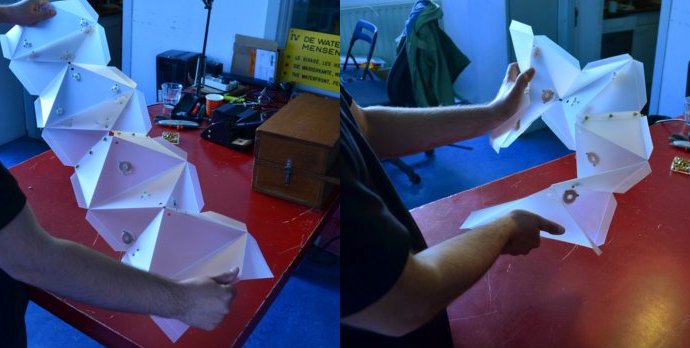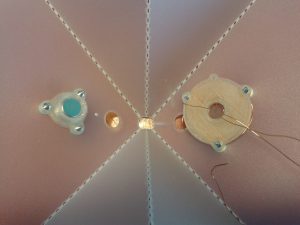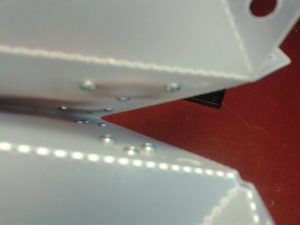 This work was also applied to the robotic architectures developed by the Hyperbody group of TU Delft (NL), and a choreography by Johannes Birringer.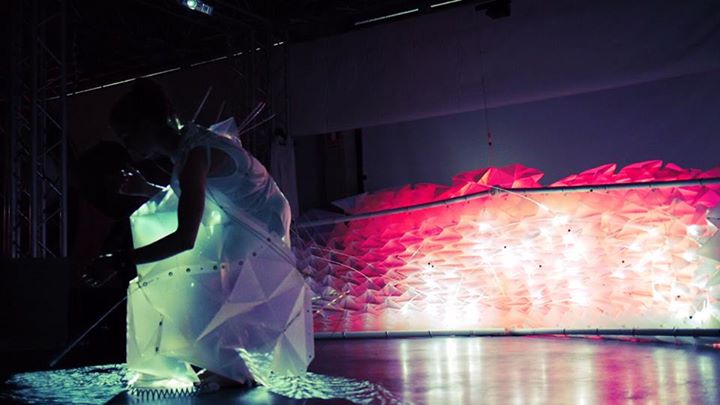 Photo credits: Johannes Birringer 2015
Presentations:
International METABODY Forum 2015, Madrid (SP), 1-25.07.2015
DIY MICROPHONE + SPEAKER = MOLDABLE SONIC BALOON
The speakers were turned also into a microphone. We have then experimented with a moldable sonic baloon.
E-TEXTILE INSTRUMENTS
During this period, I have also collaborated in organizing a workshop about electronic-textiles and musical instrument design. We have been able to test some of our prototypes and idea into much more performative elements through the collaboration of dancers, composers, and designers.
E-TEXTILE WORKSHOP + PRESSURE COOKER  (Amsterdam, 2015)
Presentations:
Sounding Textiles, STEIM (Amsterdam, NL), 6-12.04.2015
Tiny SYNTHESIZER
I have also researched embedded synthesizers (Atmel Attiny84) compatible with the Arduino environment, together with Marije Baalman who was the main responsible for the hardware development. Several examples can be found here.
Sound Examples
Here some examples of audio synthesis made with this little digital synthesizer:
Digital Drum
FM Synthesis I
FM Synthesis II
FM Synthesis III
Modulation